A virtual exhibition created with IMRSIVO specially for the 50th anniversary of La Cité du Train, the largest railway museum in Europe, located in Mulhouse, France.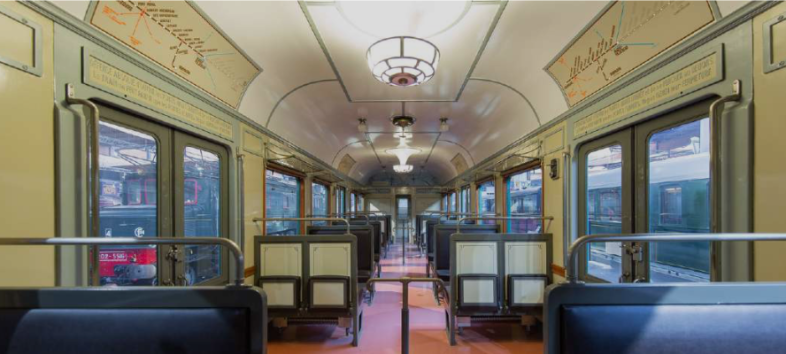 Electric train, n° Z23461, "Ligne de Sceaux"
, 1937 © Cité du Train-Patrimoine SNCF,
Nicolas Muguet
To celebrate its 50th anniversary, the museum is preparing a major retrospective with a dedicated website, and a virtual exhibition created with IMRSIVO, to help people discover and rediscover the history of trains, with a new chapter each month.
« We wish to offer quality content to new visitors. But we also want those who are already familiar with the museum to rediscover it. It is also a way to discover vintage trains which are inaccessible to the public for security or conservation reasons. »
Mathilde Buaillon, project manager in charge of conservation
La Cité du Train – Patrimoine SNCF.
With IMRSIVO, a platform developed by Blumenlab for the creation and delivery of immersive experiences in the cloud, the museum team created its own virtual tour from A to Z.
The collaboration was initiated back in 2020 when Blumenlab won the call for applications for « L'Incubateur du Patrimoine »,  a startup Incubator by SNCF Patrimoine and the CMN (Centre des Monuments Nationaux). And it is in this context that its solution, IMRSIVO, is implemented at the Cité du Train in Mulhouse.
Blumenlab and La Cité du Train organised workshops for the museum teams to get familiar with the platform and to start creating the virtual exhibition. According to Mathilde Buaillon: « Beyond its technical vision, Blumenlab gave us the opportunity to take a fresh look at our collections and gave us all the necessary advice required for writing the scenarios for our exhibition. »
The 360 photo and video content created by the team with a 360° camera eventually proved to be useful beyond the exhibition design, for backstage museum inventories for example. "The tools offered by Blumenlab are also of interest in the context of our venue rental services. We will be able to offer a visualisation of the different venues, trains and technical installations", adds Julien Prodorutti, marketing, communication and development manager. An additional asset to enhance the attractiveness of Europe's largest railway museum.
Creating content on board of the Decauville X52103 – © Cité du Train-Patrimoine SNCF
From June 12, visit the dedicated website. Welcome on board!
© Cité du Train-Patrimoine SNCF, Raphaël Dautigny (panoramic) & Nicolas Muguet