Blumenlab is proud to have been selected to join the third promotion of the French startup incubator "L'Incubateur du Patrimoine", in order to develop IMRSIVO, its immersive creation solution in the Cloud.
Blumenlab is one of the five winning startups of the "Heritage Incubator" of the Centre des Monuments Nationaux (CMN), in partnership with SNCF for this third promotion 2020/2021. Selected from among 80 applications, the startups will benefit from support over 6 months to refine their solutions and highlight French heritage through innovation.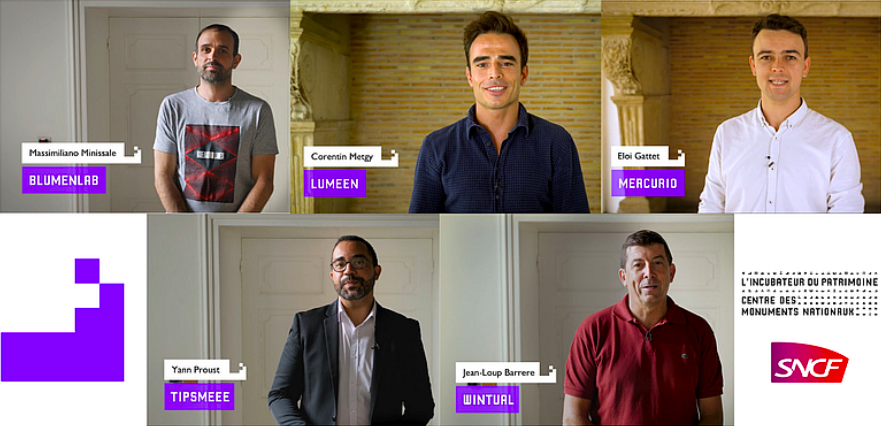 "The CMN is happy and proud to support SNCF in its policy of promoting its exceptional railway heritage. This collaboration responds to our ambition to make the Heritage Incubator a shared tool at the service of all actors involved in French Heritage, while stimulating entrepreneurship in this area."
Philippe Bélaval, President of the Centre des Monuments Nationaux


What is IMRSIVO?
IMRSIVO is a collaborative platform for creating and broadcasting immersive experiences in the Cloud. The virtual tours can be viewed via smartphone, tablet, Virtual Reality headset …
We have optimised the solution to make it intuitive, easy to use and accessible. The goal for Blumenlab is to industrialise this software so that the creation of immersive experiences become within anyone's reach.
The Incubator offers the unique opportunity for Blumenlab to experiment IMRSIVO for 6 months with the CMN and the SNCF sites and monuments.
Official launch of IMRSIVO scheduled for summer 2021!
To find out more about The Heritage Incubator and the third promotion
Copyright : © Centre des Monuments Nationaux